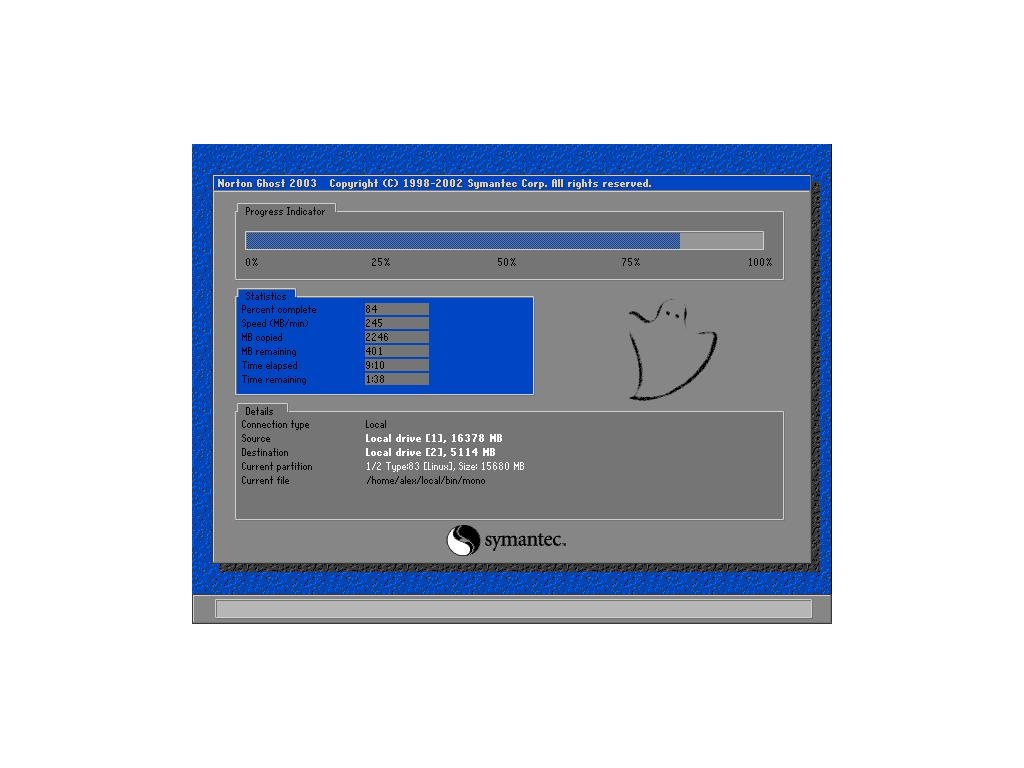 Symantec Ghost delivers a refined PC deployment and recovery solution for enterprise customers who demand more from a PC cloning solution. As the industry's premier tool for PC rollout, hardware migration, and disaster recovery, Symantec Ghost provides system administrators with an enhanced centralized management tool to dramatically reduce the time they spend reconfiguring, cloning, or restoring PCs. It leverages the proven cost-effective process of cloning a large number of PCs within a networked enterprise environment and extends those benefits further by including remote management and post-cloning configuration capabilities. With the inclusion of Windows 2000 support, Symantec Ghost can assist in the first wave of migration to Windows 2000 enabling the Windows 2000 Remote Installation Services (RIS) to use Norton Ghost in rolling out Windows 2000 Workstations.
Ghost also offers home PC users and small businesses the toolset they need to effectively protect their data by conducting comprehensive imaging, backup and disaster recovery tasks," said Steve Cullen, senior vice president, Consumer and Client Product Delivery at Symantec. Based on the industry-leading Symantec Ghost Corporate Edition, Norton Ghost provides customers with faster performance and functionality similar to that used by IT professionals around the world.
Symantec's Norton Ghost enables users to efficiently create disk images and store them on hard disk drives, multiple types of media and supported CD-R/RW and DVD/RW drives. The product allows users to take advantage of the latest high-performance storage and data transfer devices including USB 1.1, 2.0, DVD and FireWire.
For increased flexibility, Norton Ghost supports a wide range of file systems including Linux EXT3, EXT2, Microsoft FAT and NTFS. Norton Ghost offers cloning capabilities for an entire hard drive or specified partitions while automatically determining the partition sizes for the destination drive. Users are also provided with the ability to manipulate disk images, allowing them to easily restore individual files, directories, or entire drives from a Ghost image.
Norton Ghost also enables customers to back-up hard disk drives by writing disk images directly to many popular CD-R/RW and DVD/RW drives, as well as a variety of the most popular removable magnetic media, including ZIP, JAZ and more. This functionality offers users the tools needed to conduct weekly back-ups of their data and perform specific events, such as migrating to a new operating system.