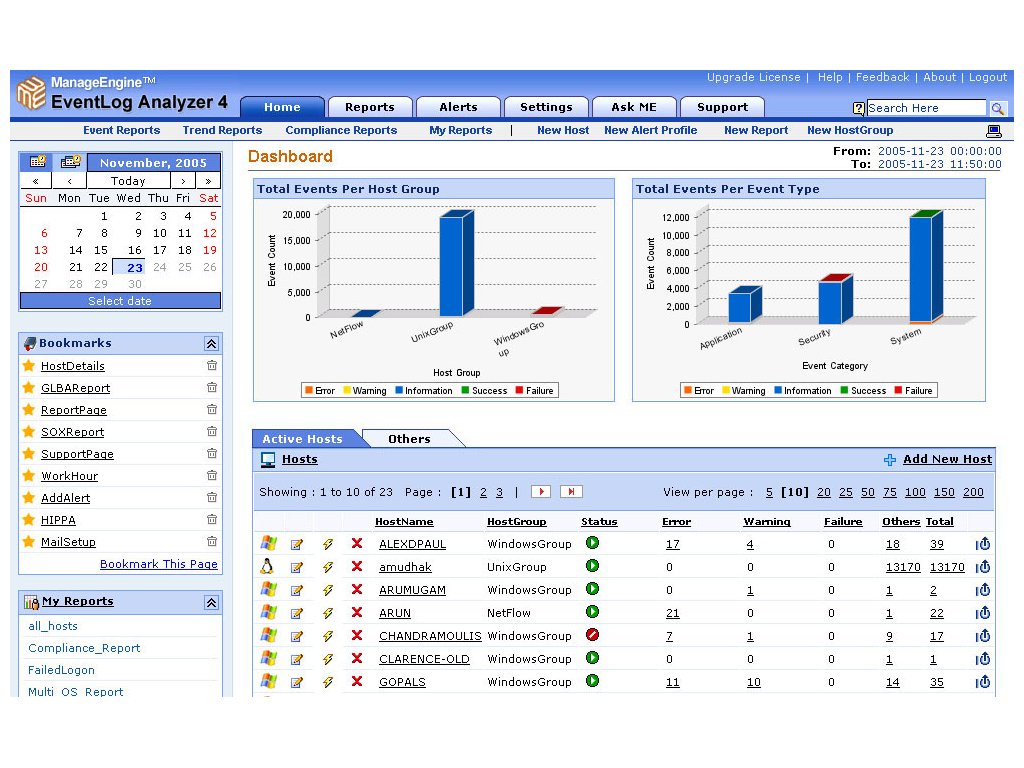 EventLog Analyzer is an efficient tool for the enterprise IT department, to monitor insider threat in the intranet, be compliance audit ready for various regulatory acts, to help forensic authorities in crime analysis and to trouble shoot network issues.
EventLog Analyzer is a web based, real time, agent less, event log and application log monitoring and management software. The event log analyser software collects, analyzes, reports, and archives, Event Log from distributed Windows hosts, SysLog from distributed Unix hosts, Routers, Switches, and other SysLog devices, Application logs from IIS web server, IIS FTP server, MS SQL server, Oracle database server, DHCP Windows and Linux servers.
EventLog Analyzer features are:
Can be installed on Windows or Linux with cross platform log collection
Supports heterogeneous devices
Supports application specific logs (IIS Web & FTP servers, DHCP Windows & Linux, MS SQL, Oracle Audit)
Compressed, encrypted, hashed and time stamped archive of log files
Canned and custom PUMA, Security and Trend reports in multiple formats
Automatic scheduled report generation and distribution
PCI, HIPAA, SOX and GLBA compliance reports for Windows event log and Syslog
Automated alerts generation, Email, SMS & SNMP Trap notifications and run program
Rebrandable web client
EventLog Analyzer - Distributed Edition is a scalable and globally distributed monitoring solution with unified console view.